Incentive Structures
Incentives have always played an important role in helping to motivate employees, especially in the last few years as competition rises and more businesses are facing uncertain circumstances. Using the right reward package can make a significant difference in the results your organization sees. The choice between individual performance incentives and team incentives is a deciding factor for many businesses. What are the advantages and disadvantages of each choice, and which one is the best match for your business? You will be able to pick the best solution for your organization if you have a better understanding of all forms of reward structures.
When creating a pay-for-performance incentive package, it's a good idea to ask workers about the kinds of rewards they'd want to receive for their hard work. Your human resources department and management committee should clarify how the bonuses can empower employees and what amount of achievement is needed to earn the reward. Make the methodology and eligibility requirements transparent to staff. It is also critical to outline concrete targets and descriptions of success standards that workers must achieve to qualify for the benefit. Check back with the team on a regular basis to see how happy they are with the payout package and whether it is having a positive effect on employee motivation. Conduct exit interviews for employees who voluntarily leave the company to determine whether the incentive pay plan influenced their decision to leave. Keep upper-level management up to date with how the incentive package is progressing against the company's priorities and performance management targets.
Team Incentive Compensation Programs
A team-based compensation scheme, rather than praising a few high-performing participants, focuses on rewarding team performance. When a team completes a large project ahead of schedule or exceeds their quota in a short period of time, everyone on the team is praised for their efforts. A teamwork-based incentive program's biggest asset is that it allows everyone a fair chance of being rewarded, even though certain workers are more talented than others. Staff would now be more driven to go above and beyond because they don't want to be the one who drags the group down and causes them to risk their benefits. On the other hand, it allows colleagues to collaborate by taking up the slack while team members are experiencing difficulties. The group incentive plan strategy, on the other hand, has certain drawbacks. Top performers can feel short-changed when underperformers are compensated equally, regardless of their contribution to the team. On the other hand, lower-performing employees could succumb to the temptation to do a bare minimum, knowing that they will likewise be rewarded regardless of their contribution to the team.
Advantages of Team Incentive Compensation Systems
Team incentives can boost the efficiency of the business by ensuring all teams are working towards common goals. Team incentives are based on measurable operational metrics and reviewed on a regular basis, either short-term or long-term.
Team incentives help create a sense of ownership over goals in your organization. Team incentives often lead to an increase in efficiency metrics that drive the company forward while encouraging collaboration and communication in the work environment.
Disadvantages of Team Incentive Systems
High-level performers may resent team incentives because they do not feel they accurately represent their own skills and abilities. Team incentives also increase the amount of compensation at risk, leading to instability.
Individual Incentive Compensation
As the name implies, individual incentives are intended to compensate individual workers based on their performance against predetermined benchmarks. The fundamental goal of this type of bonus structure is to inspire top performers to keep performing well while also inspiring other workers to follow in their footsteps and receive incentives of their own. Individual compensation plans provide high-performing workers a feeling of personal accomplishment when they are compensated for their contributions. Since individual employees who are rewarded by this type of compensation scheme receive incentives depending on their success, those who are yet to receive the bonus will see that they will be compensated if they invest more time into enhancing their individual achievements. On the other hand, individual incentives have a range of drawbacks, the most obvious of which is the potential for unnecessary rivalry. While having more successful employees is beneficial to the business, certain employees can turn to cutting corners or even weakening the success of other employees to qualify for the bonuses in individual reward systems.
Advantages of Individual Incentives
Individual incentives are based on the performance of the individual. This type of incentive is often used to help retain top performers. This incentive plan helps ensure compensation is commensurate with employee accomplishment. Individual incentives are appropriate for a society that values individualism and is prevalent in western cultures.
Disadvantages of Individual Incentives
A disadvantage of individual incentives is that factors that aren't compensated may go unnoticed. Factors outside the employee's control can influence incentive outcomes. It takes time to establish performance expectations, and unrealistic expectations will stifle motivation. Individual incentives may lead to a lack of confidence between employees and management.
Team Incentives vs. Individual Rewards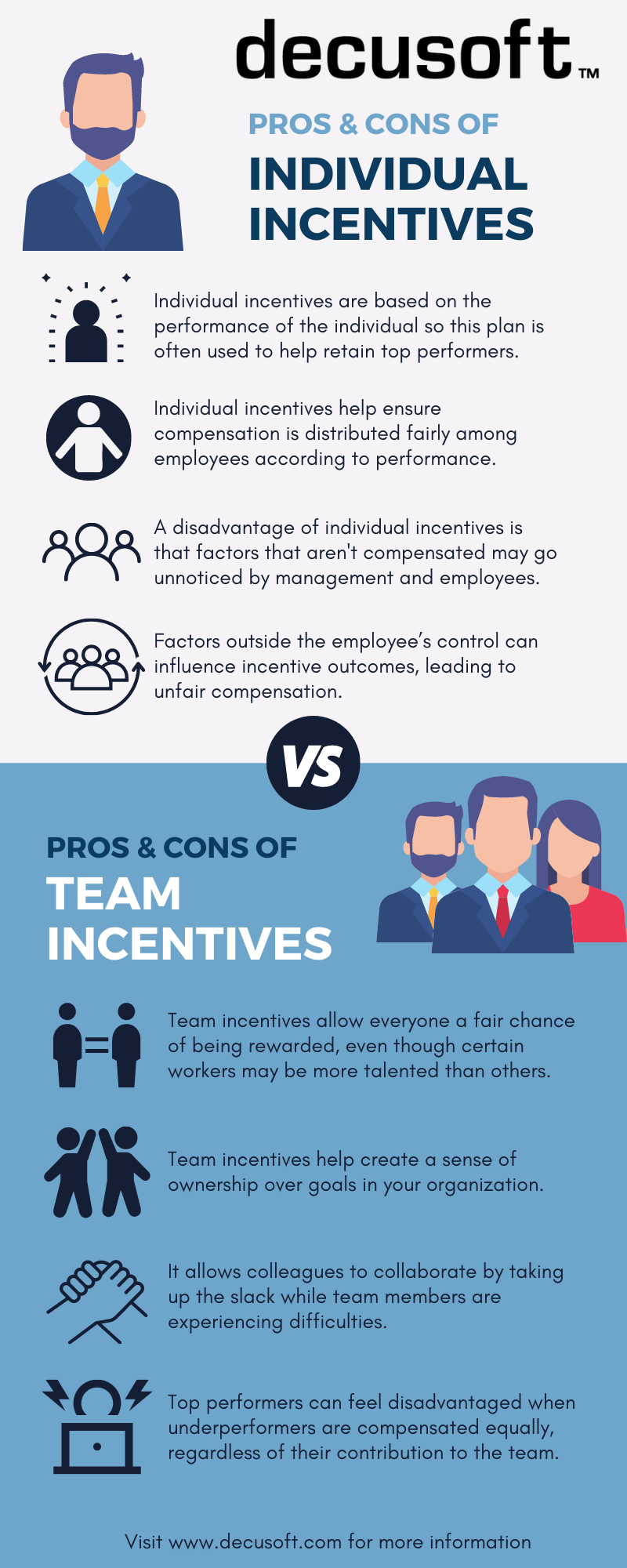 Based on your organizational goals, competitive environment, and organizational philosophy, you may implement either incentive structure for employees. Team incentives help to reward organizational performance, while individual incentives focus on top performers who achieve individual goals. A combination of individual and team-based reward schemes may be implemented. Individuals will still be sufficiently compensated for their contributions in a mixed rewards scheme. At the same time, the team-based nature of the program will still allow poor performers to be rewarded when they contribute to the team in their own way.
Managing a hybrid reward scheme, with group performance and individual performance, on the other hand, would necessitate much more work when it comes to monitoring the various components. This emphasizes the importance of using appropriate gain-sharing management tools. Being sure your employees are well compensated and communicating with them, goes a long way toward ensuring that the company operates smoothly. As long as your workers understand the value of your business and your decision-making process, you'll be fine.
Train Managers and Support Team on
Incentive Plan
Train the Trainer workshops can be invaluable for senior leaders or plan participants. Your organization should utilize HR support and supplementary training to ensure consistent message rollout and coordinate communication through multiple channels. Additionally, it's essential to establish an annual budget that includes your incentive planning. Your team can also create a communication calendar to integrate training and communication with new employee onboarding. Finally, seek manager and employee feedback to gauge if additional efforts are needed.