Hopefully, you have finished your year-end comp cycle or are at least wrapping it up. With the completion of the process, it may be time to start thinking about how you can improve it this year.
There are new economic factors and labor market issues that are affecting us all, but with digital transformation and the employee experience on everyone's mind, you may want to consider the impact of elevating your compensation management process.
HR is typically overlooked in areas for streamlining, mostly because it is considered "internal" and not a revenue-driving function. The reality though is that this year, even more than the last two will point the microscope at HR departments and their ability to navigate complicated waters. These challenges include balancing talent acquisition/retention, DEI & Pay Equity issues, and complying with new regulations concerning salary transparency and pay disclosure.
Why Compensation?
Getting compensation right is one of the biggest issues facing HR departments right now. It is front and center in the pursuit and retention of talent – it is the benchmark for equity and the basis for the new regulations that are in effect. Additionally, if done poorly, it can become a resource drain and security risk.
Having an easy-to-use, easy-to-understand and secure system will relieve a lot of burdens that have been placed on comp admins and managers for a long time. As an upside, you will also standardize a process, resulting in better communication with employees and better data for management.    
How Do I Elevate My Compensation Management
We have broken down the process of elevating compensation management into 4 key areas: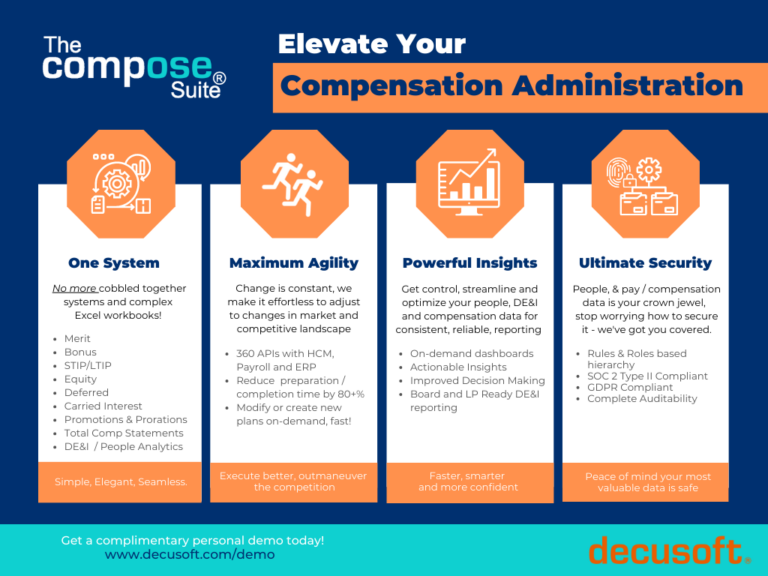 1. One System: You need to have all your compensation and people data in one location. Having multiple spreadsheets, versions and even systems creates havoc. One place for all the information, that is cloud-based for easy access and real-time updates.
2. Maximum Agility: Staying nimble will continue to be the name of the game, especially in HR this year. Having the ability to run what-if scenarios, adjust budgets and update recommendations quickly with automated roll-up is a huge benefit.
3. Powerful Insights: One-stop access, standardization, and real-time updating to all your relevant DEI and people data. Stay compliant with new regulations, provide clear visuals to senior management, and arm your team with actionable insights to improve decision making.
4. Ultimate Security: Cloud-based secure access to information that removes the need to have Excel sheets sent to managers. A system that keeps your most important data safe and tracks all the changes made and by whom.
You may be thinking that this isn't a good year to make these types of changes, but it is proven that challenging economic climates require change. Updating a risky, stale process is a great way to show commitment to your employees, save time/money and secure a risky process in a very competitive time.
Learn more about Decusoft's Compose Suite today!