I want to invite you to please read the latest Ventana Research Viewpoint written by Steve Goldberg entitled "Total Compensation Considerations in Financial Services".
The paper covers a lot in only a couple of pages, but the key takeaways:
· Cost of Collaboration – the time and effort to achieve satisfactory collaborative outcomes among stakeholders within HR, compensation, finance, business line managers, etc.
· Effective compensation software – offerings will help provide more unified and meaningful auditing, reporting, and modeling capabilities.
· Issues & risk with spreadsheets – Only 17% of organizations using spreadsheets experience no calculation or payment errors – conversely, 83% of users leveraging Excel for variable compensation found calculation errors!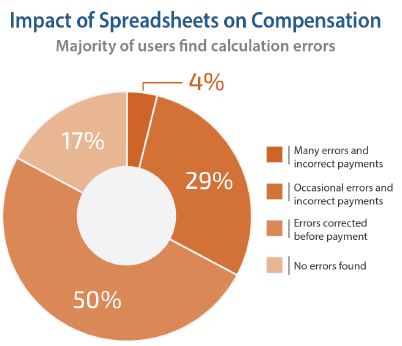 Read the paper here.
Please visit our Compose product page and learn how we can help dramatically improve data integrity, reduce risk, and help save time/money managing compensation.