Please see brand new viewpoint authored by Steve Goldberg – VP & Research Director with Ventana Research:
"The New Demands of Total Compensation Management".
Compensation accounts for 70% or more of an organization's total operating budget and management of compensation demands HR and Finance need to provide "compensation agility" with instant access to accurate data to better support their business.
Unfortunately, many businesses still rely on the use of spread sheets to manage compensation despite the fact that more than 75% of organizations report difficulty in using them. Additionally, there are countless data sources that report the lack of reliability, formula errors, version control, lack of auditability, security concerns, etc. It's reported that 90% of all spreadsheets contain some sort of errors.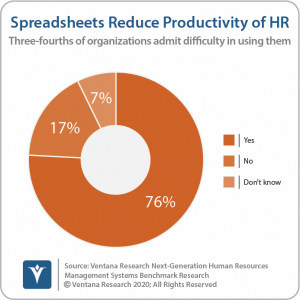 Please visit us at ComposeHR.com and learn how many of our current customers that have migrated to Compose, report a marked improvement in data integrity and significantly less time and effort required to manage their compensation processes. Additionally, many have shared examples of their prior comp cycle process taking 4-6 weeks with spreadsheets now only taking 2!